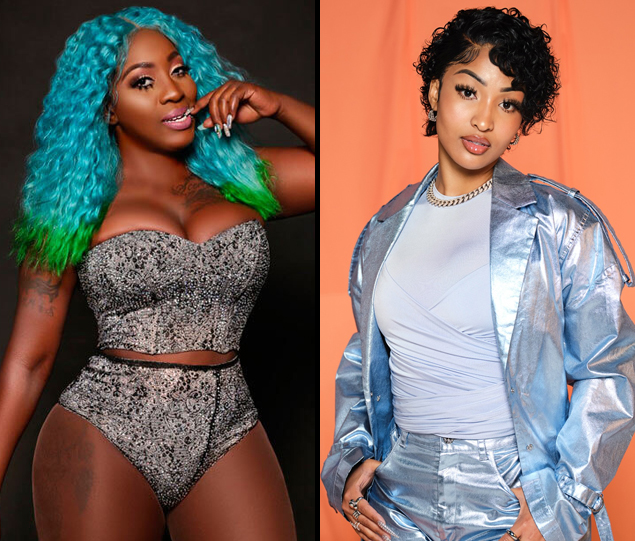 Jamaican Independence Day: Celebrities Showcase National Pride and Joy
August 6th, known as Independence Day in Jamaica, brings forth a vibrant celebration of culture and identity. The island nation comes alive with street parades, vivid flag-colored attire, and a diverse array of cultural exhibitions. As tradition dictates, many Jamaican stars, both at home and abroad, took to social media to display their patriotism and honor their country on this significant occasion.
Shenseea
Dancehall sensation Shenseea embraced the spirit of Independence Day through a charming Instagram post. Sporting a captivating Jamaican-themed ensemble, she exuded an aura of national pride. Her crochet-knitted crop top adorned with the country's flag and a matching striped, drawstring mini skirt captured the essence of the occasion. Complementing her outfit with a beaded belly chain and bracelets, she celebrated with a sip of DG Kola Champagne soda, a beloved local favorite.
Spice
Coinciding with her birthday on August 6th, the illustrious Spice embarked on an extravagant photo shoot that encapsulated both her special day and Jamaica's independence. Cloaked in her favorite hue, blue, the 'Queen of Dancehall' radiated regality in a polka dot ruffled dress. Against the backdrop of New York's iconic Times Square, she clutched multiple blue polka dot balloons, expressing gratitude for another year of life and extending well-wishes to Jamaica.
Tifa
Amid a workout session in Nashville, Tennessee, Tifa took a moment to honor her homeland. Dressed in a Jamaican-style athletic top and black tie-string bikini bottom, she symbolized "freedom" while proudly representing Kingston. Through her photos, she conveyed the triumphant, proud, and free spirit of Jamaica.
Lashana Lynch
Marvel actress Lashana Lynch, set to portray Rita Marley in the upcoming Bob Marley: One Love biopic, emphasized the significance of Jamaica's independence. Sharing her perspective on Instagram, she echoed the sentiment that Jamaica holds a unique importance. A video clip featuring a passionate Jamaican reaffirmed the nation's significance, with the individual asserting, "Jamaica ah di Big Deal, and everything else ah small fries and side order." Lynch, born to Jamaican parents in West London, also offered glimpses of her Jamaican vacation experience, showcasing her connection to the island through images of relaxation, river rafting, market visits, and indulgence in local cuisine.
Independence Day in Jamaica transcends borders, uniting individuals across the globe in celebrating a nation that holds profound cultural and historical significance. Through their heartfelt displays of national pride, these celebrities amplified the sense of unity and identity that define this momentous day.