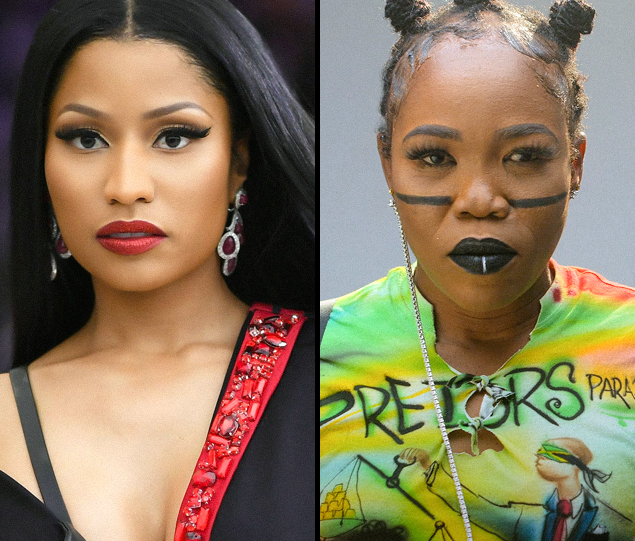 Queen Ifrica Criticizes Nicki Minaj's Support for Jamaican TikTokers
Reggae sensation Queen Ifrica has voiced concerns over rapper Nicki Minaj's involvement in Jamaica's TikTok scene, suggesting that Minaj's support might be endorsing what she calls "darkness" within the nation.
The Trinidadian-born rap star has been making her presence felt on TikTok, showering local TikTok stars Brittany 'Brit' Goffe and Derrick Morgan with attention and gifts. Notably, Minaj extended her support to Morgan, who shares the same name as Ifrica's singing father. Not only did Minaj send gifts his way, but she also offered to cover his rent.
Derrick Morgan became an online sensation during the pandemic due to his vibrant personality. However, his unconfirmed sexuality became a focal point of discussions surrounding him. Queen Ifrica, who has consistently expressed her disapproval of the queer community, believes that there might be a hidden agenda behind Minaj's support for Morgan.
In an Instagram Live session on Wednesday, Ifrica voiced her thoughts, saying, "We as Jamaicans would like to know who that man is and what kind of role him play, because we see dem tek him and dem dress him up like a transgender, put him inna makeup and hair. Him seh the most dirtiest and nastiest things weh mi coulda ever hear come out of any individual… and you, Nicki Minaj, over there a gift him." Ifrica went on, "When time unno use fi unno 100 million powers and endorse dem darkness deh inna my country, a some likkle boy soul dat unno a mek go weh… From you endorse him and give him the gift, a bare likkle boy mi see a put on frock and a come pon TikTok. Nicki Minaj, a dat you a do to mi country, and yuh nuh see no one inna Jamaica a try shub dat inna Trinidad… So, who allow you fi come a try do that to my country, Nicki?… If unno don't love Jamaica, unno fi leave we alone and stop use we fi unno devilish outcome."