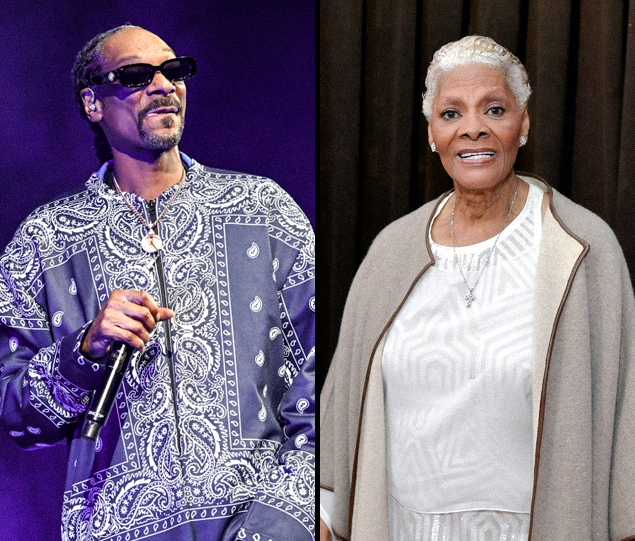 Snoop Dogg Recalls Being "out-gangstered" by Dionne Warwick
Snoop Dogg has revealed that meeting Dionne Warwick changed the way he rapped.
On January 1, 2023, CNN viewers watched the premiere of the film Dionne Warwick: Don't Make Me Over, a movie about the musical career of Dionne Warwick. In the film, Snoop appears to share his first meeting with Warwick.
In the film, Dionne Warwick invited Snoop Dogg, Suge Knight and other rappers for a 7:00 a.m. meeting. She explained the reason for calling this meeting. "These children express themselves, which they have the right to do. However, there is a way to do it ."
Snoop Dogg explained that he and his team came a little more ahead. "We were a little scared and we were shaken", recalls the Doggfather. "We're powerful right now, but she always has been. Thirty years in the game, with a lot of money and success.»
At the start of the session, Dionnie broke the ice by asking guests to call her a bitch as they usually did in their songs when talking or rapping about other girls. "You will all grow up. You are going to have families. You are going to have children. You are going to have little girls and one day this little girl will look at you and say to you: "Dad, did you really say that? Is it really you? What are you going to say or answer then?»
The impact was immediate on Snoop's vision of rap. "She was checking me out at a time when I thought we couldn't be checked," he said. "We were the most gangstas you could ever be, but that day at Dionne Warwick's, I think we were overwhelmed. I made it a point to put out records of joy – me raising everyone and nobody dying and everyone living.»