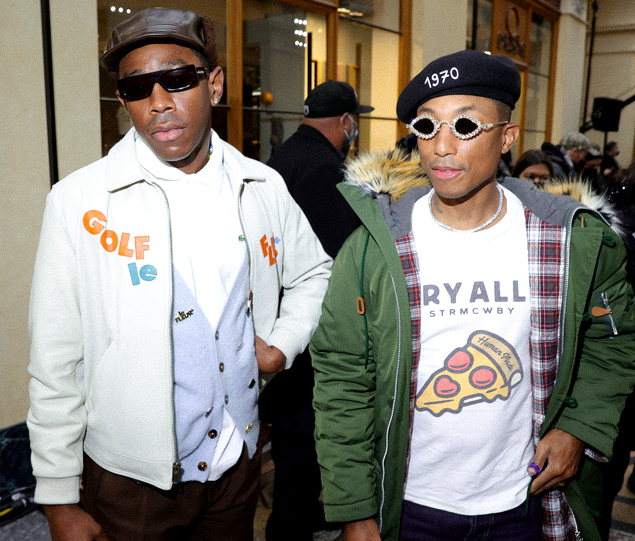 Tyler The Creator Says Pharrell Changed His Life
Tyler The Creator has revealed that Pharrell has changed his life. This revelation was made in the documentary series "Rap Caviar Presents".
The trailer for Hulu's Rap series Caviar Presents was unveiled on Instagram this week. In the clip, Pharrell and Tyler the Creator can be seen talking about their careers' defining moments. This post was described as "inspired by the playlist that tackles some of today's most provocative issues through the stories of the hip-hop visionaries influencing our culture."
In the video, viewers will learn that Pharrell was the one who influenced Tyler since the latter's childhood. "I had no father. I didn't have a big brother. I didn't have a big cousin," Tyler begins. "So as a kid since 10/11, Pharrell is the one I was watching.»
Right after Tyler shared his memories, Pharrell took over to show how helpful he was to Tyler. "So through that, we just developed like a friendship where he was asking me for advice on certain things," says Pharrell.
The trigger came during a tour during which Pharrell detected the talent buried in Tyler. "So that's this European tour we're doing," Tyler continued. "Pharrell is here. He goes to the next town, I go to the next town. We go to the studio, I'm there and he looks at me saying: 'You have it, n-gga! You don't see it, that's all. N-gga, you have it! You have the trick! Do you know what Jimmy Iovine told me?»
It was advice from Pharrell that changed the way Tyler would define his career. Tyler still remembers it to this day, and recalled: "Make something undeniable and make it equally as infectious. Why are you doing music? Is it just because you want to look cool? Because that will burn out. When it becomes purpose-oriented, it can be as cool as the flashy shit, but it will be much more meaningful."
The documentary series will premiere on March 30, 2023.