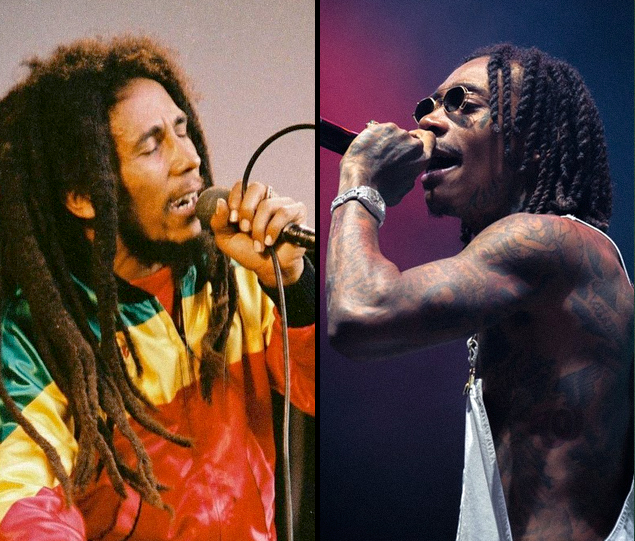 Wiz Khalifa's Bob Marley Is Not Approved By Fans
Wiz Khalifa's recent photo has been making the rounds on social media, but not for the reasons he may have hoped. In the picture, the rapper is seen receiving a massage while taking a full-bodied shot. However, what caught the attention of many fans was the sight of his left foot, which appears to be ashy and lacking proper pedicure care. The foot also happens to feature a Bob Marley tattoo, which has caused fans to troll the rapper and lament the fate of the legendary reggae singer.
Sessions at my house are super fun. pic.twitter.com/hOk3aQ74YJ

— Wiz Khalifa (@wizkhalifa) March 16, 2023
Some Twitter users were quick to mock Wiz's seemingly neglected toes, with one commenting that even Bob Marley must be wondering why his toes look the way they do. Another user expressed disappointment, questioning why Wiz would disrespect Bob Marley in such a manner. Some fans tried to defend the rapper by stating that he is a trained MMA artist, which could explain the state of his toes.
However, it's worth noting that Wiz is far from the only star or artist to have a Bob Marley tattoo. In fact, the reggae icon has long been a popular choice for tattoos among music fans, particularly those in the hip-hop community. Despite the negative comments surrounding Wiz's tattoo, it's clear that Bob Marley's influence on music and culture continues to be felt and celebrated.
Lmaooo wiz khalifa feet got the internet in a frenzy, by all means tho them shits look like they smoke mad weed too https://t.co/pRGTL7ckJf

— Zasquiat (@MoneyBaggYerrrr) March 17, 2023
Regardless of the backlash, it's clear that Wiz Khalifa is enjoying life and taking care of himself. In his Twitter post, he captioned the photos "Sessions at my house are super fun", indicating that he's enjoying the massage and relaxation time at home. While some may choose to focus on the state of his feet, others are happy to see the rapper taking care of himself and enjoying some much-needed downtime.
While Wiz Khalifa's Bob Marley tattoo has caused a stir on social media, it's important to remember that tattoos are a personal choice and a form of self-expression. While some may not appreciate the state of the rapper's feet, it's clear that he is living his best life and enjoying the little things that make him happy. As for the Bob Marley tattoo, it's just another example of the reggae legend's lasting impact on music and culture.